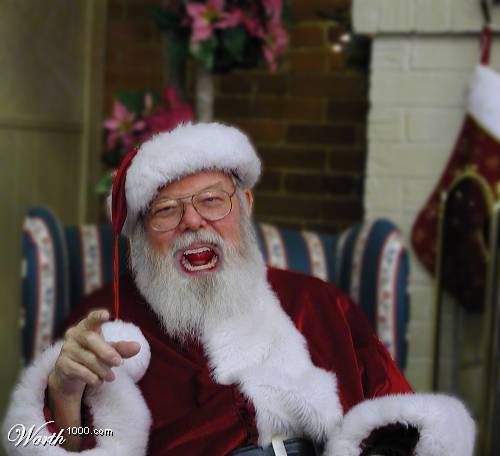 A Public Service Announcement, produced by HM Government, Whitehall
What to do in the case of a Santa Attack
Christmas is cancelled this year by order of government. It is feared Santa may be gearing up for a Winter offensive.
- Do not panic.
- You may simply die or be injured.
The Post Office have already been notified of the threat level and steps have been taken to destabilise Santa's lines of distribution.
If you fear your property is a target this year you may wish to consider moving home.
Other things you can do:
Cancel your milk order for one month.
Destroy all items in your home that contain sugar. Destruction by fire is unsafe and these should be taken to government approved coal-powered stations.
Block up chimneys.
IT IS SAFE to burn snow.
Wrap hanging tinsel carefully in black or grey binliners.
Wear safety gloves when dealing with carrots or straw.
Disconnect all doorbells and alarm clocks.
Pour fizzy drinks down the drain.
Staple shut ALL turkeys.
Burn all recordings of conspirator and Santaist Chris De Burgh: It is feared these may contain subliminal messages. Consult your GP for advice.
And most of all, have a merry Christmas!